At Edmonton First Aid we proudly offer Heart and Stroke Foundation Basic Life Support courses.  Offered at our Old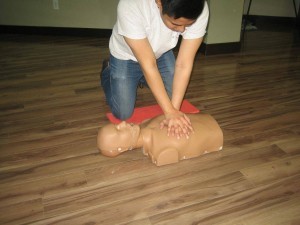 Strathcona location, just south of Downtown Edmonton and within walking distance of the University of Alberta. Participants enrolled in this course will learnt he latest high quality CPR skills for adults and how to manage obstructed airways and use barrier devices such as bag-valve masks. Registration is incredibly easy, simply pick the date and time from the selection of courses below.
What Certification Will I Receive?
Participants that successfully complete the course will receive Canadian Heart and Stroke Foundation certification that is valid for 1 year. Successful participants will receive an email that provides access to the Heart and Stroke Foundation website. This link will provide access to show proof of course completion and access to print certification. When registering for the course, please ensure that you write your correct email address to ensure you receive this link.
What Will I Learn in this Course?
Participants that complete the BLS course will know how to:
Describe the importance of high-quality CPR and its impact on survival
Describe all of the steps of the Chain of Survival
Apply the BLS concepts of the Chain of Survival
Recognize the signs of someone needing CPR
Perform high-quality CPR for an adult
Describe the importance of early use of an automated external defibrillator (AED)
Demonstrate the appropriate use of an AED
Provide effective ventilations by using a barrier device
Perform high-quality CPR for a child
Perform high-quality CPR for an infant
Describe the importance of teams in multi-rescuer resuscitation
Perform as an effective team member during multi-rescuer CPR
Describe the technique for relief of foreign-body airway obstruction for an adult or child
Describe the technique for relief of foreign-body airway obstruction for an infant
How Long is the Course?
The course is approximately 4 hours in length. It varies slightly depending on breaks and candidate skill level(s).
How Much Does the Course Cost?
The cost of the course is 79.99. Course fee includes taxes, certification and training manual.
Additional Information
Refunds and transfers are not accepted within 72 hours of the course. Prior to this time, registered participants can receive a full refund or transfer. Participants that do not complete the course will have to repay the entire fee of the course in order to redo.